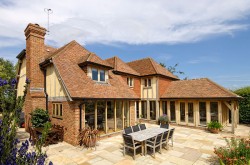 The Melton Building Society is working in partnership with leading oak frame building supplier, Oakwrights, to help make financing self build projects simple with the Oakwrights Self Build Mortgage. This mortgage is provided by the Melton exclusively for Oakwrights' customers and provides stage payments in advance of each build stage.
"We are thrilled to be working with the Melton to provide our customers with a mortgage product that takes the stress out of financing building an oak frame home," says Charlie Mills, partnership manager, Oakwrights. "The Melton has long experience of providing specialist mortgages and this is invaluable when building your own home."
Oakwrights offers a range of services from architectural design through to full build solutions, covering oak frame design, construction and encapsulation. With several years of experience building oak framed homes, Oakwrights has developed a simple approach to the overall build process, designed to allow the self-builder more flexibility.
For further information about Oakwrights please call 01432 353353 or visit www.oakwrights.co.uk.